Discover more from The Good Enough Weekly
Essays and interviews on food, climate, work, and liberation. Rooted in Arizona.
Ethically grown local flour won't absolve us from our moral dilemmas
Affordability, food businesses, and hunger in the U.S.
Two Mason Jars straggled in my fridge, each with about half a cup of fruit sauce. One was the apple sauce from last week, and the other was a strawberry compote thing from even earlier. I didn't want to let them sit there, eating them slowly until they went bad. My parents recently gave me a box of beautiful locally-grown heritage wheat flour, and it stared at me, reminding me of the recipe for a jam tart (crostata) from Cucina Povera by Giulia Scarpaleggia.
From the start, there were reasons the tart might not turn out as the book showed: I was cooking at the end of a long day at the end of a long week, with my 3-month-old sleeping in the sling in such a way that my left hand was encumbered. I was using bread flour, not all-purpose or pastry. I don't own a tart pan, which I'm surprised by every time I want to make a tart.
The dough turned out more crumbly than it should have, but I didn't want to add more liquid, so I patted and squeezed it into three disc-like shapes and put them in the fridge to chill. My energy at that point was tapped out, so the Mason Jars went back in, and I watched the baseball game instead, licking the dough from my fingertips.
Let me tell you about the flour. I'm not going to name or link it, but oh, the flour – flavorful, nutty, locally and ethically grown by a small company of people paid a fair wage. Everything that sets my food nerd heart aflutter. 
The flour is also expensive: $10 for 16 oz (thirty cents per ounce.) At my local conventional grocery store, 80 oz of Gold Medal all-purpose flour is $3.99 (four cents per ounce.) I also checked the price of King Arthur Flour unbleached all-purpose flour, a brand positioned as a step up from Gold Medal, and it comes in at $4.99 for a 5lb bag (six cents per ounce.) Thirty cents per ounce vs. four cents per ounce. Put another way, the heritage flour is seven and a half times as expensive as the Gold Medal brand flour. Is it worth it? Is that even the right question to be asking?
The other day I read Inside the muddy, furry world of 'farmfluencing', which sent my brain into processing mode. Hannah Macready writes about Morgan Gold of Gold Shaw Farm in Peacham, Vermont, and his unique ability to be a content creator and farmer. "He spent his previous career as a chief marketing officer in Washington, D.C. Before that, he worked in corporate video production." 
Aha, I thought. Not surprising. It seems as if the new wave of heritage flour companies are run by someone with a marketing background or who has the funds to hire one. They have beautiful packaging, well-maintained and curated Instagrams, and a fine-tuned overall brand story that is genuinely engaging and convinces me that they are certified Good People. On the about pages, there is often a nod to an earlier career that made this turn to farming possible. Or, if there isn't any mention of past work, there is the fact that many of these businesses are buoyed up by being run by a white, middle to upper-class person who has access to a wide array of resources.
Macready continues, "Others, like Toni Smith, a cultural studies and postcolonial researcher at Vancouver Island University, complain that the most visible influencers are overwhelmingly white and middle class, and their influence purports a version of rural life that is unavailable to most." And "Catastrophes, she said, have a tendency to transform white, middle-class, urban dwellers into rural, romantic dreamers. We saw this again during the COVID-19 pandemic, when waves of suburbanites fled cities, racing to start an urban exodus. 'It's always about opting out of the modern world,' she said."
I'm not interested in opting out of the modern world (except for an hour or two to watch baseball, Seinfeld, Pride and Prejudice, etc.). Opting out of the modern world means opting out of caring for all of my neighbors. Opting out of concerning myself with injustice. I'd rather opt into lifestyle changes that contribute to climate change mitigation and concern myself with my whole community. The idea that it's possible to opt out of the reality that every being on earth is connected is laughable, really.
I think we need to look at how the rise of heritage, boutique, 'done the old way' food brands (which I often adore), if not paired with a food justice mission, could make the food apartheid even worse. If there isn't an overt effort to make things more accessible and equitable, how will things change? In Arizona 1 in 7 children face hunger – do their families have access to flour at all, let alone the good for you and the earth kind?
I'm never saying that the expensive flour isn't worth the price: It's good for the environment and me, they pay their workers a fair wage, they produce less and use pre-industrialization techniques. But who can pay for it? People like me, who value the specialness of the flour and sometimes have the extra twenty-six cents per ounce to spend. Also, perhaps, people who only value it because it is the most expensive option, who have allowed themselves to only assign value by dollar amount. Should flour that has more nutrients in it because of how it's been grown and processed be only accessible to people who can afford it? 
Grocery store shoppers have become used to food costing less than it should (especially meat), but just because we're used to it doesn't mean it's right. There are reasons some foods are so cheap and they aren't good – the workers who grew or processed it weren't paid enough, or shortcuts were taken that are detrimental to the earth, or or or. The list of shortcuts is long.
"The theoretical perspective of worldmaking and the concrete task of climate justice both force us to contend with the immense scale of injustice and thus the immense scale of the struggle for justice," writes Olúfhemi O Táíwò in Reconsidering Reparations. Also, the "...snapshot view of corruption neglects the role of colonialism in explaining the strengths and weaknesses of the institutional structures that post-colonial societies have in place to manage corruption."
From the outside standpoint of a consumer, some of these brands neglect the role of settlers in depleting the soil in Arizona and rejecting Indigenous knowledge. It's less "fun" to talk about the brand's responsibility in reparations I suppose, but this is the world we have and this is the history we have. Acting like history is made right by promising to do better in the future isn't working.
The scale of the struggle for justice is immense. It is too much for any one person or business to shoulder. These brands often do get the mission of world rebuilding and imagining a better future. They're run by earnest people who want to do something different. And then they get busy growing, milling, employing, selling, selling, selling. It sounds like a lot. 
Focusing on the future or on making flour in a better way protects brands and the people running them from feeling involved in other parts of the problem of hunger. In the U.S., businesses focused on ethically making a high-quality product rather than having the widest margins are almost perceived as innately good, but that's only because our vision is skewed. These earnest, beautiful companies are perceived to be good because they are in the moral judgment zone of the free market. Capitalism somewhat patronizingly sees companies like these flour makers as morally superior, although suspect. After all, the makers of thirty cents per ounce flour could be better at making money if they didn't care about paying their employees a fair wage. 
And yet, while underdogs in some ways, the earnest and beautiful flour brands still participate in the same market, which begets the same problems. They advertise themselves against the Gold Medal and King Arthur brands as the elite super flour that's worth 7x as much as you'd typically pay. They tell us they have salvation in a box, we just need to be able to pay the price.
Yesterday, I pulled out the dough, the jams, and the pan and preheated the oven. When the dough came closer to room temperature, I knew it wouldn't roll out, so I didn't even bother. (I also remembered that my rolling pin is packed in a box.) I crumbled two-thirds of the dough into the bottom of my 9x13 Pyrex and squished the crumbles into a crust. I spooned the apple and strawberry sauces onto the pastry, half and half. For the remaining third of the dough, I used a vinegar bottle to roll it out and then cut it into strips I used to make a lattice. Rustic is the keyword here. But despite the many ways I deviated from the recipe, it baked and filled the house with the smell of fat, flour, and fruit. And when it had cooled long enough, everyone pronounced the tart delicious. 
Today, I woke up and sliced myself a piece. I ate. I thought about the 751,690 people in Arizona who are hungry, and the people working to feed them. There is space for everyone trying to eliminate hunger, but without acknowledging the extent of the current problem and its connection to the past or our own responsibility in it, I worry that efforts will stall. My Pyrex is nearly empty, but I can fill it again – an action that has long been twisted by the mighty into a privilege, not a basic human right.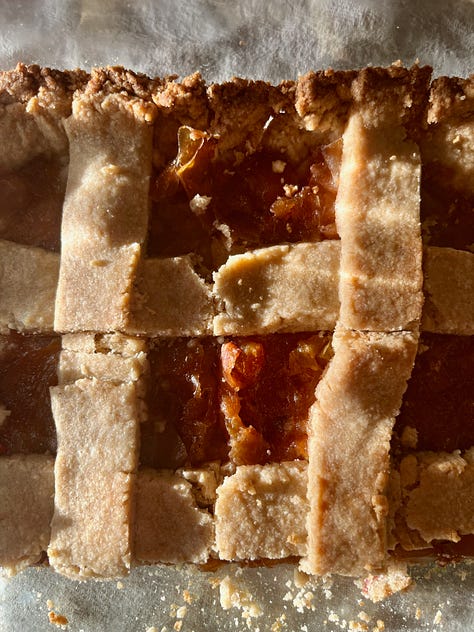 ---
Reading – Down Girl: The Logic of Misogyny by Kate Manne (referenced in Touched Out by Amanda Montei.) Rivermouth: A Chronicle of Language, Faith, and Migration by Alejandra Olivia. Triangle House Review's latest issue. 
Writing – One hundred million emails (it feels like.)
Cooking – Pasta and jarred sauce. Leftover marinara on lavash with some cheese for a quick pizza craving. Toast.
Thanks for reading The Good Enough Weekly! Subscribe for free to receive new posts and support my work.